It has been a big year for weddings! Starting out the nuptial trend was, of course, Duchess Kate Middleton and Prince William. Their over-the-top ceremony was completed by the ravishing Alexander McQueen (designed specifically by Sarah Burton) dress that was unveiled (little play on wedding words) to the United States around 5am on April 29th, and yes, I did, in fact, get up at that ungodly hour to watch the entire ceremony.
via http://articles.sfgate.com/2011-04-30/entertainment/30227016_1_sarah-burton-wedding-gown-catherine-middleton
Kate's dress was a stunningly beautiful, and somewhat uncharacteristic of past royal weddings. The long-sleeve, V-neck, A-line gown showed the Duchess' figure perfectly, and made her appears not like a royal girlfriend, but of a Duchess.
We cannot talk of the Royal wedding without addressing the smoke show that happened to be carrying the bottom half of Kate's dress, her sister Pippa.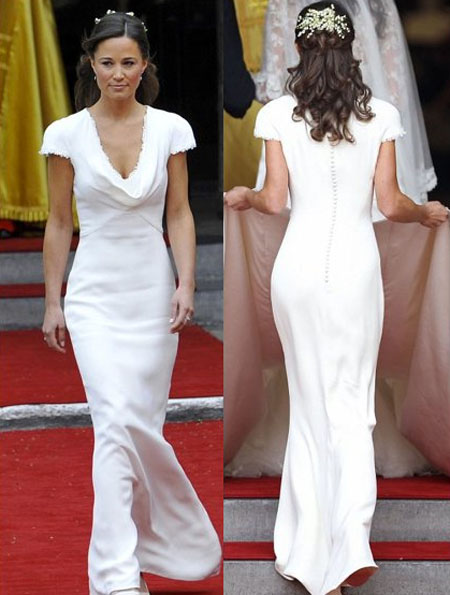 via http://www.weightlossexercisediet.com/images/pippa-middleton-bum.jpg
The satin sheath with buttons down the back and a simple cowl neckline made for the second most talked-about dress of the day. Due to her impeccable figure, Pippa was able to carry this dress with all of the elegance it was made to exude.
Skipping over many other weddings this year, I know, but we continue with the marriage of Kim Kardashian and Kris Humphries. This over-the-top affair was done in true Kardashian fashion, (aka televised and shown nationally to over 10.5 MILLION viewers. While I may poke fun at the Kardashian's extravagance, I am a fairly awful liar, and to be honest, I was one of the 10.5 million, and yes, my eyes got a smidge misty. While this marriage ultimately, and famously, ended in a mere 72 days following this incredibly lavish experience, the pictures and the 3, yes 3, wedding dresses, will live on forever.
via http://creativewedding.us/wp-content/uploads/2011/09/Kim-Kardashian-Wedding-Dress-The-Wedding-Ceremony.jpg
Kim's first dress was a traditional princess gown, with layers upon layers of tulle, a strapless bodice made of satin, and, of course, much bling to complete the look.
Kim's mermaid-style dress was by far, my least favorite. I mean, we know you are fond of your "assets", but I believe a figure-hugging dress with some unnecessary frills at the end is just overkill. Yet, now that I write that, it seems the dress describes her perfectly! Figure conscious, over-the-top, and impractical. Snarky comments aside, this was the least practical dress, and one that was inappropriate for a wedding, in my opinion.
via http://info.partydressexpress.com/Portals/29549/images/c--documents%20and%20settings-administrator-my%20documents-my%20pictures-kim_kardashian_dress_3-resized-600.jpg
Next dress was one that emulated "old Hollywood glamour". A v-neck, figure-flattering satin sheath reminded me more of a dress for an awards show rather than a wedding reception, but there is no denying it was a beautiful dress that fit Ms. Kardashian-Humphries-Kardashian perfectly.
Finally, I am going to let my inner geek shine through and talk about the wedding I have been anticipating for approximately 4 years. I am, of course, talking about the nuptials between a Mr. Edward Cullen and Ms. Bella Swan from the multi-million dollar movie franchise, "Twilight". I began reading the twilight series about 4 years ago, and when I read the final book and discovered there would be a vampire/human wedding, I was immediately curious about Bella's wedding dress, and how it would be interpreted in the movie. Naturally, approaching 20 years old, a few friends and I traveled to the midnight showing of this tween sensation. Let's just say, we were probably the most excited in the theater, and definitely the most emotional.
Bella's first dress was revealed in a dream (actually nightmare) sequence about her impending wedding day. This dress, although beautiful, underwhelmed me to the highest degree, and my heart dropped when I considered that would be the dress further on in the story. It is literally impossible to find any pictures of this, so I will just describe it for you. The exaggerated sweetheart neckline, lacy appliqués and subtle green/grey bow at the smallest point at her waist is all so beautiful. This just seems a little generic for my taste, and a little generic for this impossibly successful franchise.

My fears were squashed a mere 10 minutes further into the film, when Bella's true wedding dress was revealed.
It was a stunning, long-sleeved satin gown with a semi-revealing lace back, and buttons down the entirety of the dress and train. It was truly breathtaking. Although not many in life can pull this sort of silhouette off, Kristen Stewart had the perfect body type. The subtleties of lace on the sleeves, the diamond-like paneling on the front, and the subtle train fit both the mood, and character perfectly. When attempting to write of this magnificent dress, it seemed as though the dress was nowhere to be found online! It was kept secret almost as strictly as the royal wedding dress! Finally, when the movie releases were in full swing, it seems the creators of twilight had a deal with a certain dressmaking company that would produce a copy of the wedding dress soon after release of the movie.
via http://racked.com/archives/2011/11/21/after-a-top-secret-delivery-the-bella-swan-twilight-dress-is-here.php
Astoundingly, the copy of the dress is a mere $779! Thanks Alfred Angelo! Hopefully this will still be considered stylish if I ever get married, because you can bet I will wear something similar.
It is interesting to note the similarities in all of these dresses, mainly culminating in the creation of Bella's dress. It seems as though bits and pieces from the other two weddings played a role in this creation; the satin sheath aspect from the Kardashian wedding, with the obvious play on the lace and long-sleeved silhouette from the Kate's dress, and the lastly, the cascading buttons from Pippa's dress at the Royal wedding. It is interesting to see all of these current bridal trends in so many different mediums. From the ancient tradition of Royal weddings, to the highly publicized weddings of our generation's "celebrities", to a franchise seen by millions. It seems these trends are able to coincide despite their obvious differences in occasions, and as far as my psychic abilities can see, these designs and trends are here to stay.